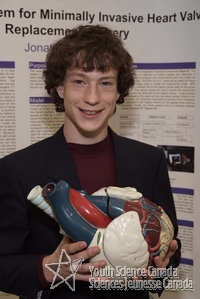 Jonathan McLeod
Training System for Minimally Invasive Heart Valve Replacement SurgeryA.B. Lucas S.S.
Award
Value
Gold Medal – Engineering
Senior
Sponsor: Youth Science Foundation Canada
$1500
The University of Western Ontario Scholarship
Gold Medallist – $2000 Entrance Scholarship
Sponsor: University of Western Ontario
$2000
Dalhousie University Faculty of Science Entrance Scholarship
Senior Gold Medallist – $4000 Entrance Scholarship
Sponsor: Dalhousie University, Faculty of Science
$4000
Biography
Jonathan McLeod is a grade 12 student attending A.B. Lucas Secondary School in London, Ontario. He enjoys cycling, ping-pong and tennis. He plays the trumpet and competed in the London Kiwanis Music Festival this year. Jonathan also enjoys photography and has placed second in the youth division of the Canadian Geographic Photography Contest in 2004. Jonathan has competed in the London District Science Fair since Grade 9. In Grade 10 he won a summer research position through the Science Fair at the Canadian Surgical Technologies and Advanced Robotics center in London. The following summer he received a scholarship to work on a research project at the Robarts Research Institute in London. After the summer he continued to work on research at Robarts throughout the school year. He also received the "Gene Researcher for A Week" award in March of 2006. This award allowed for twenty-three students across Canada to spend March Break in a leading genetics research laboratory. Jonathan will continue to work at Robarts this summer and will be entering Engineering at UWO this fall where he has been awarded the President's Scholarship.