Exhibit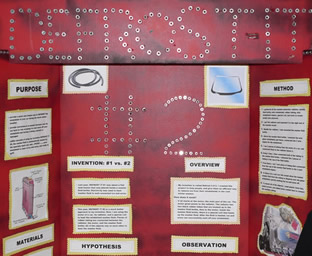 NATURE OF THE EXHIBIT
The exhibit is a creation of the student which presents a science related project, for example a novel idea or device. The contributions made by others must be acknowledged on the exhibit or in the report.
PHYSICAL SIZE OF EXHIBITS
Exhibits must be confined to an area which does not exceed 0.75 m front to back and 1.20 m from side to side. The overall height of exhibits from the floor is limited to 3.60 m. All exhibits must be self-supported. Wall space to attach exhibit material to will not be available. Tables will be provided. In special circumstances, oversized exhibits may be accepted but special permission must be obtained in advance from the Registrar. Use the Contact Us button in the footer below.
EXHIBITS WITH WORKING PARTS
Exhibits involving working parts must be self contained. Electrical power at 110 VAC 60 Hz to a maximum of 1A will be supplied but no other service, i.e. gas, water, etc., will be available. If you need more current than this, contact the Registrar by using the Contact Us button in the footer below.
PROJECT NOTEBOOK
Your Project notebook is an important part of your exhibit, so don't forget to bring it. Some judges will ask to see it.
NUMBER OF EXHIBITS
An exhibitor may present or be involved with only one entry at any particular Thames Valley Science & Engineering Fair.
REPEATED EXHIBITS
The same exhibitor may not display an identical exhibit to that shown by him/her at any previous Thames Valley Science Fair. Improved or modified exhibits, however, may be entered. Many successful participants improve and develop their projects from one year to the next.
REMOVAL OF EXHIBITS
No exhibits are to be dismantled or removed before the time given in the Student Timetable