Canada Wide Science Fair for Students
OFF TO THE CWSF
The trips to the Canada Wide Science Fair are the premier awards at the Thames Valley Science & Engineering Fair. The Fifty Eighth CWSF is being held from Sunday 12 May to Saturday 18 May 2019 in Fredericton NB. This is a life-changing experience for some students.
ORIENTATION
The winners will meet immediately following the Awards Ceremony of the London event with the Adult Delegates, the Chief Judge, and the Registrar. We will describe in detail the preparation you need to do prior to the fair, and the kinds of experiences you will have while you are there.
PROJECT REVIEW
We will arrange for several professors to meet with you to give you suggestions on how you can raise the standard of your project to the CWSF level.
Date: Wednesday 10 April 2019
Time: 4:00 pm
Place: Physics & Astronomy Room 26..
POSTER
All London finalists will present their project as one large poster,or in two sections Maximum height = 40 inches, so it can go as hand luggage in a mailing tube on the plane. Typical width is 74 inches, so that it covers the backboard completely. Use Powepoint to prepare it. Send it to Professor Whippey for checking before you print it. He will scan it for errors, and other items that will catch the judge's eye. We recommend Mercury Blueprinting for printing and laminating. The poster must be complete in time for you to take it with you to the CWSF.
BACKBOARDS
Here is a picture of the Project Backboard.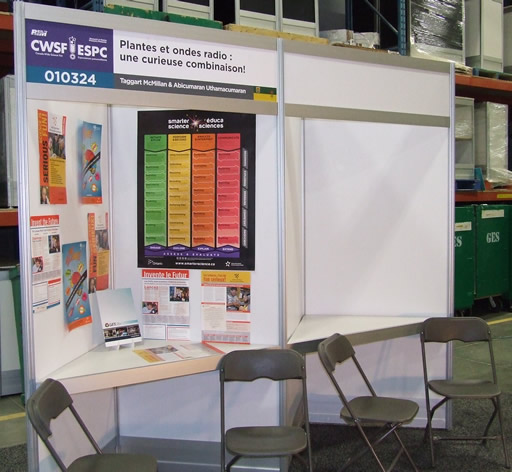 Download a full description of the display system here.
ADHESIVE – 3M Scotch Heavy Duty Mounting Tape" Model 110/DC.
The approved adhesive for affixing presentation materials to the display backboard will be 3M Scotch Heavy Duty Mounting Tape. This tape has been tested on the display panels and provides a strong bond over several weeks, while being easily removable. Similar, but less expensive products are much more difficult to remove. Each region will receive a strip approximately 2m long, per project. When your region arrives in the Exhibit Hall, the delegate should proceed to the Tool Crib (in the Youth Science Canada booth) to obtain a package with your region's supply. Scissors will also be available.
Note:
To minimize waiting, you may want to pack a pair of scissors (in your checked baggage – not in your carry-on bag).
A letter-sized piece of paper or poster only requires 4 small pieces of tape (one at each corner). Larger pages and posters will require more, but there is absolutely no need to affix all the edges.
Although we will have sufficient tape for all participants, you may wish to bring your own supply of 3M Scotch Heavy Duty Mounting Tape, which is available in 1.9m rolls at Staples and Home Depot.
PROJECT REPORT
Every finalist submits a Project Report. This is the first item seen by the judges, so you need to make sure it is clear and free of errors. Submit this to the Delegates before you upload it to the CWSF web site. They will check it and suggest any required changes. The Project Report MUST be uploaded to the CWSF Registration web site by midnight on 30 April. This deadline is firm, and will not be extended.
More details are available from this web page
PIZZA AND POP
There will be a pizza and pop party at a home for all those going to the CWSF. This is an opportunity for you to get to know each other.
EMAIL
Check your email at least twice a day. You will receive many messages, that all require a very fast response.
INTERNATIONAL BACCALAUREATE EXAMINATIONS
International Baccalaureate Examinations are scheduled by the IB organization, who do not allow any changes whatsoever. Students who have to take IB exams during the week of the Canada Wide Science Fair cannot attend the CWSF.
WEB SITES
Visit these web sites for more information:
Canada Wide Science Fair.
Project Directory. Examples of projects from previous CWSF.
Youth Science Canada. Home page of the national organization.