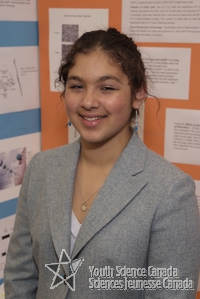 Angelica D'Souza
Gene Therapy for Cervical Cancer
A.B. Lucas S.S.
Cervical cancer is the second most common cancer in women. Gene therapy to modify the abnormal proliferation of cancer cells is a potential treatment. DP1 is a major player in cell cycle progression. Cervical cancer cells die when infected with a recombinant adenovirus that encodes a mutant DP1 form which interferes with normal DP1. Thus, dnDP1 is a potential treatment for cervical carcinoma.
Award
Value
Bronze Medal – Health Sciences
Intermediate
Sponsor: Canadian Institutes of Health Research
$100
The University of Western Ontario Scholarship
Bronze Medallist – $1000 Entrance Scholarship
Sponsor: University of Western Ontario
$1000
Biography
My name is Angelica Marie D'Souza and I am 14 years old. I started Grade 9 in September of 2006 at A.B. Lucas Secondary School in London, Ontario. I am on my school's girls' rugby team and on the swim team. Outside of school, I dance and take Jazz and Ballet lessons. I volunteer at Humber River Regional Hospital in Toronto. I am also working to earn a Bronze Award of the Duke of Edinburgh Award. I like to scuba dive and collect coins from all over the world. I enjoy reading, especially fantasy, vampire stories, and historical fiction novels. I speak four languages: English, Spanish, Italian, and French. My favourite school subjects are History, French and Math. My post secondary plans vary from month to month, but currently I would like to study History and Modern Languages or Medicine.