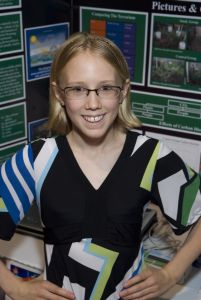 Jessie MacAlpine
Carbon Dioxide-The Death of Plants?
Algonquin P.S.
My project studied the effects of increased CO2 levels on the growth of plants. By disolving Alka-Selter tablets in water the CO2 levels for the study group were increased, while plants in the control group were exposed to regular levels of CO2.
Biography
Jessie MacAlpine is a grade seven student who lives in Woodstock, Ontario. She is a very active student and enjoys swimming, dancing and reading. Jessie has always had a keen interest in environmental concerns and she realizes the the environment is a very delicate thing which needs to be taken care of for future generations…including herself. She has always admired the work of David Suzuki and someday hopes to be just like him. In the furture she hopes to be an environmental engineer and help with saving the planet.