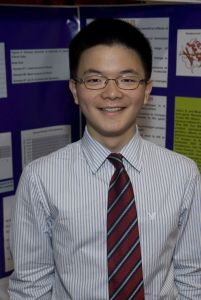 Tony Kwon
Altering the Gene Expression of Streptococcus Pyogenes Using a Natural Product
A.B. Lucas S.S.
The purpose of this experiment is determine if a natural product, garlic, can alter the gene expression of Streptococcus pyogenes. I hypothesized that garlic extracts will cause changes in its gene expression. To determine the following hypothesis, I had 8 falcon tubes that had various amounts of garlic, and ran a protein gel apparatus. My hypothesis was correct. Garlic could be a new antimicrobial.
Award
Value
Honourable Mention – Biotechnology & Pharmaceutical Sciences
Intermediate
Sponsor: Rx&D Health Research Foundation
$100
Biography
I am a grade 10 student in London, Ontario, Canada who attends A.B. Lucas Secondary School. I am currently involved in both intermediate and senior band in Lucas. Also, I am in the school badminton team as a "men-singles" player. My badminton season just finished and I ended up as 4th place in London. Concerning community activities, I play a monthly concert to a group of people as a violinist. My hobbies and interests include scientific experiments, music, and sports. I do considerably well in the school, and I hope to become a microbiologist when I grow up. I am very thankful for the opportunity to be in the CWSF 2008.