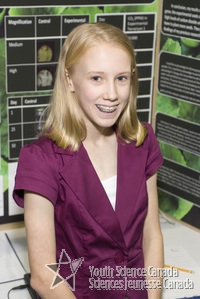 Jessie MacAlpine
Carbon Dioxide-Friend or Foe?Algonquin P.S.
My study investigates what happens to seeds as they germinate and if they are exposed to high levels of carbon dioxide. I made three terrariums, control, experimental 1 and experimental 2. I experimented for fifty days, and found that the seeds in the experimental 1 terrarium had a lower germination rate than the control seeds.
Award
Value
Honourable Mention – Earth & Environmental Science
Junior
Sponsor: Petro-Canada
$100
Biography
Jessie MacAlpine is a grade eight student who lives in Woodstock, Ontario. She is a very active student and enjoys swimming, cross-country, basketball, volleyball, track-and-field, and dancing. Jessie loves music and can play the flute, piano and fiddle. Jessie is very active in her school and is on the student parliament and she is the co-director of the environment club. She has one brother, one sister and many friends whom she likes to hang out with. Jessie has always had a keen interest in the environment and she realizes that the environment is a very delicate thing which needs to be taken care of for future generations. She has always admired the work of David Suzuki and someday hopes to be just like him. In the future she aspires to be an environmental scientist and help with saving the planet.