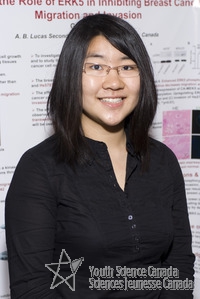 Grace Wang
Discovering ERK5's Role in Inhibiting Breast Cancer Cell Migration and Invasion
A.B. Lucas S.S.
Since death from cancer is mostly due to metastasis, preventing metastasis is critical. Two steps in metastasis are migration and invasion. The present study was undertaken to investigate the role of modulated ERK5 (extracellular-signal-regulated kinase-5) expression in breast cancer cell migration and invasion. It was concluded that tumour tissues have low ERK5 expression, and that upregulating ERK5 effectively inhibits breast cancer cell migration and invasion.
Award
Value
Silver Medal – Health Sciences
Intermediate
Sponsor: Canadian Institutes of Health Research
$700
The University of Western Ontario Scholarship
Silver Medallist – $2000 Entrance Scholarship
Sponsor: University of Western Ontario
$2000
Grace Wang is a grade 10 student studying at A.B. Lucas Secondary School. At school, she is a member of the badminton team, robotics club, Reach for the Top team, concert choir, and senior band. Among others, her hobbies include skiing, tennis, reading, snowboarding, travelling, and music. Regarding other extracurricular activities, Grace studies piano at the grade 10 level while also playing clarinet in the London Youth Symphony's Chamber Winds Ensemble. She is also a frequent volunteer at several locations including the London Red Cross, Women's Community House, and London Chinese School. Within the Canadian Red Cross, Grace is the section editor of the Ontario Zone Red Cross Youth Newsletter and also a member of the Ontario Red Cross Public Affairs Team. In academics, Grace received the Top Academic Student Award at her grade 8 graduation and has also received the grand prize for the Partners in Research Scientific Essay Competition. With great interests in medical research, Grace strives for a future in medicine.