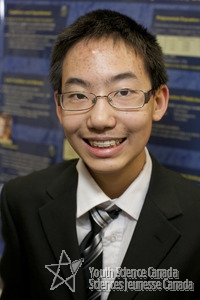 Victor Ling
Optimizing 2D-Circulating Fluidized Bed Performance: How Factors Affect Cluster
London Central S.S.
Circulating Fluidized Beds are crucial to many industry applications, particularly the multi-billion dollar oil refinery. When the machine operates, clusters form, which benefit applications involving heat and detriment applications involving reactions. A linear equation was discovered that accurately predicts cluster amounts with CFB operating conditions as variables. It has a powerful use in industries, allowing them to individually optimize their processes according to their needs.
Award
Value
Excellence Award – Senior
Bronze Medal
Sponsor: Youth Science Canada
$300
Western University Scholarship
Bronze Medallist – $1000 Entrance Scholarship
Sponsor: Western University
$1000
Biography
I'm a grade 9 student at Central Secondary School, and I live in London, Ontario, Canada. The CWSF in Toronto will be the second one I'm going to. I enjoy playing chess, and my favorite subjects are math and science. I hope to get a science or technology related job in the future.