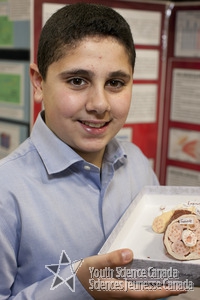 Mohamad Kadri
Move That Body! The Muscular SystemLondon Islamic School
I have conducted a study on the muscular system, providing thorough information and background knowledge. I have also conducted an experiment to test if gender, height, weight and muscle exercise plays a role in affecting your muscle endurance. I have also made some models made of playdough to help me describe how the muscular system interacts in order for our body to move and function.
Biography
My name is Mohamad Kadri. I am in grade 7 and attend the London Islamic School. This year I was elected to be the Student Body President at my school. I have organized many fundraising events such as hot lunches, bake sales and field trips. I have also participated in organizing events such as Jump Rope for Heart and Hoops for Heart. I enjoy school and strive to achieve academic exellence. Outside of school I enjoy playing competitive hockey just like my cousin, who plays for the Toronto Maple Leafs. I have been to the London District Science and Technology Fair twice and it has been my dream to proceed and participate at the Canada Wide Science Fair. I have recieved the MVP in soccer and hockey and this year was chosen to be the assistant captain of my hockey team. Each year i have recieved academic exellence at my school. Also, I have recieved first place in the All Science Challenge at the University of Western Ontario. I am very fortunate and exited to be one of the grand award winners to attend the CWSF.