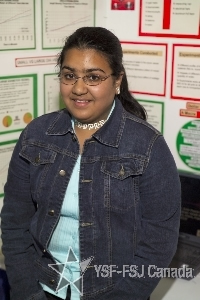 Nikhita Singh
ENVIRONMENTALLY FRIENDLY
DELIVERY SYSTEM FOR PESTICIDES
A.B.Lucas S.S.
Pesticide run-off and accumulation in soils have serious environmental and health implications. This project is an investigation into factors affecting run-off from leaves. It examines ways into maximizing efficiency of pesticide use. Fifty leaf surfaces were studied under a microscope using SEM images. Three different surface types influencing run-off were identified: leaves with hairs, leaves with ridges, and leaves with bumps. Quantitative measures of hairs, ridges, and bumps were made and extremes among each group were selected for further investigation. Manufactured products were selected after quantitative measurements to simulate leaf surfaces, such as industrial velcro to simulate leaves with hairs. These served as controls. Validity of the simulations was achieved by comparing run-off between actual leaves and the corresponding artificial model. Experiments to study factors affecting run-off were conducted on leaf surfaces and corresponding controls. Use of surfactants proved to be the most effective method to control run-off. Experiments were repeated with various types of surfactant in different concentrations. Results suggested that low concentrations of non-ionic surfactants and polymers were optimal in reducing run-off. The effect of particle size was examined using spray nozzles of different diameters. Large increases in run-off were observed with the use of large diameter nozzles. The use of multiple applications or a single application, using the same volume, did not affect run-off quantities. Run-off increased proportionately with the angle of the leaf. This project demonstrates that run-off can be controlled for all types of leaf surfaces. Reductions of 80% are achievable.
| Award | Value |
| --- | --- |
| Third Award – Environmental Management – Presented by University of New Mexico | $1000 |
| Fifth Award $250 – American Society for Microbiology | $250 |