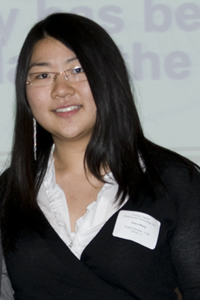 Grace Wang
MODULATION OF ERK5 IN INHIBITING BREAST CANCER CELL MIGRATION AND INVASION
A.B. Lucas S.S.
Breast cancer is the most common cancer in women, with death from this disease mostly due to cancer metastasis rather than the effects of the primary tumor. Therefore, searching for a novel therapeutic target for preventing cancer metastasis is of critical importance to cancer therapy. Two key steps involved in metastasis are cancer cell migration and invasion. Extracellular signal-regulated kinase 5 (ERK5) is an enzyme that regulates gene/protein expressions through phosphorylation. Preliminary studies have shown that ERK5 phosphorylation is downregulated by cdc42, a protein involved in upregulating cancer cell migration and invasion. However, the role of ERK5 in regulating migration and invasion of breast cancer cells is poorly defined. The present study was undertaken to investigate the role of modulated ERK5 expression in breast cancer cell migration and invasion.
Results demonstrated that downregulating ERK5-phosphorylation by silencing RNA significantly increased migration and invasion of breast cancer cells (Hs578T and MDA-MB-231 cell lines) in the Transwell migration and invasion assays. In contrast, upregulating ERK5-phosphorylation through constitutively-active MEK5-adenovirus markedly decreased migration and invasion of cancer cells in the same assays. Immunofluorescence staining also showed significantly lower ERK5 expression in tumor tissue than in non-cancerous tissue. Based on these findings, it was concluded that tumor tissues have low ERK5 expression, and upregulation of ERK5 effectively inhibits breast cancer cell migration and invasion. These results suggest that ERK5 is a potential target for preventing breast cancer metastasis. This study will form a valuable basis when developing a novel strategy for cancer therapy.
| Award | Value |
| --- | --- |
| Fourth Award of $500 – Medicine and Health Sciences – Presented by Intel | $500 |