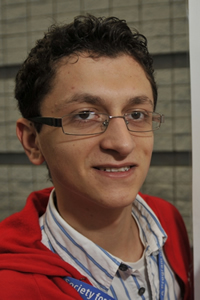 Mofeed Sawan
A GEOCHEMICAL AND GEOMICROBIOLOGICAL EXAMINATION OF THE RED SEA – DEAD SEA CANAL
Oakridge Secondary School
Limited rainfall and water diversion from the Dead Sea has caused it to shrink at a rate of one meter per year for the past thirty years. A number of solutions to sustain water levels have been proposed. The most favoured is the Red-Dead Sea Canal, linking the two bodies of water by either an underwater pipeline or a canal. A current World Bank study is examining the feasibility of this project, and early results indicate that the canal will greatly impact the limnology and biology of the Dead Sea. This interdisciplinary study builds on previous research and examines the impact of halophilc Archaea on Dead Sea aqueous geochemistry and mineralogy, complimenting current research. Geochemical PHREEQC computer simulations indicate that gypsum will precipitate in the post-mixed Dead Sea; this was further proven in the abiotic laboratory systems. When compared to the abiotic systems, this study also indicates that halophilic Archaea will play a decisive biogeochemical and mineralogical role in the post-mixed Dead Sea. It was discovered that different species impacted the precipitation of minerals, specifically gypsum, differently, with some inhibiting salt formation and others promoting it. Furthermore, all the Archaea formed gypsum crystals that were not macroscopically visible. As the crystals settled to the bottom of the solution, they also captured organic material. This raises the possibility of life in this new sediment, as seen in the gypsum sediment layers found in current Red Sea evaporation ponds where sediments impact the aqueous system and vice versa.
| Award | Value |
| --- | --- |
| Intel ISEF Best of Category Award of $5,000 for Top First Place Winner – Earth & Planetary Sciences – Presented by Intel | $5000 |
| First Award – American Geosciences Institute | $1000 |