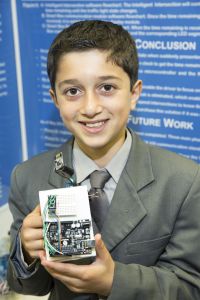 Waleed Sawan
Intelligent Intersection
Jeanne Sauvé French Immersion P.S.
Intelligent Intersection improves the driver safety while crossing a traffic light controlled intersection. The Intelligent Intersection system will continuously broadcast the time remaining before the traffic light changes to approaching vehicles. Vehicles equipped with the Smart Box will be able to capture this information and use the information to alert the driver and display the time remaining.
Award
Value
Excellence Award – Junior
Silver Medal
Sponsor: Youth Science Canada
$300
Western University Scholarship
Silver Medallist – $2000 Entrance Scholarship
Sponsor: Western University
$2000
I am a grade 7 student and I attend Jeanne Sauvé French Immersion Public School. I know 3 languages; English, Arabic and French. I was born in Newcastle Up-On-Tyne, England. I have lived in Canada since I was four years old and had the opportunity to travel to a number of other countries. Outside of school, I enjoy playing the clarinet, reading, writing, soccer, running, tennis, basketball and volleyball. Some clubs I participate in at school are band, robotics, math, cross-country and track and field. This is my first Canada Wide Science Fair. My favourite quote: " If you can fill the unforgiving minute with sixty seconds worth of distance run, yours is the earth and everything that`s in it", Rudyard Kipling.