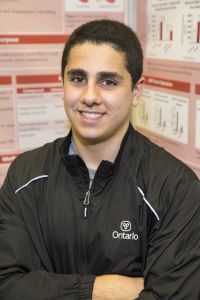 Mohamad Kadri
Effect of Green Tea and Fish Oils as Novel Treatments for Cardiac Hypertrophy
A.B. Lucas
Cardiac Hypertrophy is the world's number one cause for heart failure and sudden death. Doctors believe that ARB's ( a type of medication used to treat hypertrophy) have a lot of controversy and that they should not be prescribed to patients. This project examines the possible antihypertrophic effect of Epigallocatechin Gallate and Docosahexaenoic Acid on cardiomyocyte hypertrophy, compared to an ARB known as Valsartan.
Award
Value
Australian National Youth Science Forum Award
Sponsor: National Youth Science Forum Australia
$2500
Excellence Award – Intermediate
Bronze Medal
Sponsor: Nuclear Waste Management Organization
$100
Western University Scholarship
Bronze Medallist – $1000 Entrance Scholarship
Sponsor: Western University
$1000
Biography
Mohamad Kadri is a grade 10 student at A.B Lucas Secondary School. He is involved in many extracurriculars, including playing football for his school team and taking part in the Thames Valley Science and Engineering Fair. This is Mohamad's 4th year at the Canada Wide Science Fair, and has participated in his local fair 5 times. Mohamad is also the communications officer for the A.B Lucas Muslim Student Association. Mohamad has been a recipient of many prestigious awards such as the Partners in Research Award, The EMAAN Top Junior Science Award, and has also won a bronze medal at CWSF as well. Mohamad aspires to become a medical doctor, and wishes to continue his studies in Western University.