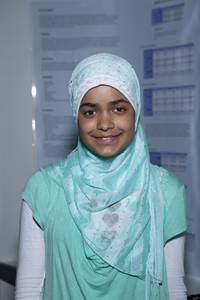 Sanah Pallithotungal
Left or Right?
Al Taqwa Islamic Elementary School
For my project, I will be testing two variables: Since everyone has dominant parts of their body for other jobs other than writing, I would like to see if they use their hand's dominant side for other parts of their body (ei. ear, eye, and feet). Secondly, I would like to see which dominant hand works more ambidextrously.
Biography
I'm Sanah. I go to Al-Taqwa Islamic School, it's a private school. I am a strong worker and try to do my best in all my subjects and whatever I do, but I do try to also look for the fun in everything. I am shy at first until you get to know me. I am described as all-around because I have many sides to me. I enjoy giving people advice. I like to try new things whether its food, sports, whatever. My inspiration was from 2 places. First, I had seen something similar on a website, but I didn't like it that much so I changed, added and made it my own. Also my friend had changed from being left-handed to right-handed and it didn't take her too long but it took her sister to learn to use her left-hand longer, so I wanted to know why. I want to investigate further in many topics but for this topic, I would like to focus on the brain and go more into it. My advice to other people would be don't be afraid to step out of the box and also do everything to your best ability.