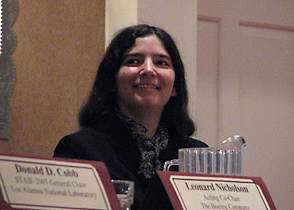 Rachel Zimmerman is one of a number of distinguished Alumni of the London & District Science Fair program.  In grade seven, she used an a computer called the Atari to program Bliss Symbols, a system of communicating  that helps those who have language challenges to communicate through pictures, rather than letters and words. She won first prize at the London District Science Fair, and a silver medal at the Canada Wide Science Fair.  Rachel was remarkable because she did a different  high quality science fair project each year.  She looked at the problem of disposing of smoke detectors, which contain a minute amount of radioactivity; she built a full size replica of a Victorian instrument that drew Lissajous figures; she looked at electricity producing algae.
After leaving London, she went to Brandeis for her undergraduate degree in Physics, and after an interval, completed her Master s Degree at the International Space University in Strasbourg.
On an internship at the NASA Amex Research Institute, she returned to her interest in helping people with disabilities by setting up chapters of the Tetra Society, a volunteer group for engineers and technicians who create assistive devices.  From there, she was off to the Canadian Space Agency in Quebec, where she worked on target dots for the vision systems of Canadarm
For the last eight years she has worked for NASA at the Jet Propulsion Laboratory, where she is involved with public outreach and school programs.  She is very involved with the Casini mission to Saturn.
On December 3 2011, at the Centre in Toronto, she received the Visionary Award from the Women's International Film and Television Showcase, in recognition of her early work on Bliss Symbols, and her commitment to Outreach.