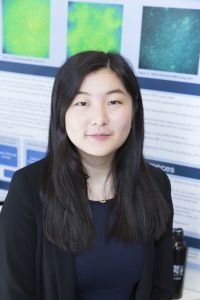 Viability Duration of Chemically Fluoresced Red Blood Cells
Fluorescently labelling red blood cells (RBCs) is a valuable lab technique, yet it is currently unknown how long they are viable for. By determining the viability duration of fluoresced RBCs, I was able to investigate novel methods to prolong their viability. This allows the same RBCs to be used for multiple experiments which improves lab efficiency, decreases the number of animals used, and saves money.
Biography
My name is Seoyoon Kim and I am a grade 11 student at A.B. Lucas Secondary School in London, Ontario. As an activist for STEMM, I have been involved in many activities both in and outside of school. I am currently working as a co-op student at the Medical Biophysics Department of Western University, where I was inspired to do a project based on the experiments that I encountered in my lab. I am currently the Student Trustee of the Thames Valley District School Board, and a member of the Executive Council of the Ontario Student Trustees' Association as the Media Design Officer, advocating for over 2 million students across the province. Outside of school, I have been highly involved in the arts as a flutist and a dancer.