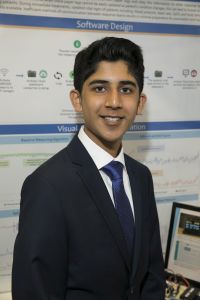 Danish Mahmood
W.I.N.I.T.S. (Wireless Interconnected Non-Invasive Triage System)
London Central Secondary School
W.I.N.I.T.S. is a cost-efficient vital sign monitoring system that includes a novel biomedical finger sensor, W.I.N.I.T Band. This device can wirelessly and continuously measure cuffless blood pressure, heart rate, SpO2, and body temperature. In mass casualty incidents, first responders, paramedics, and hospitals will be able to receive real-time updating vital signs on an online dashboard and device OLED screens, eliminating the need of patient reassessment.
| Award | Value |
| --- | --- |
| BIOMEDICAL ENGINEERING – Second Award | $1500 |