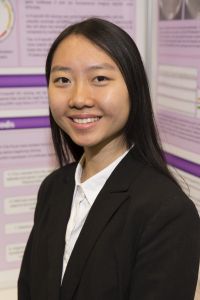 Engineering Novel Reporter Gene Vectors for Improved In Vivo Cellular Imaging
Central S.S.
Cellular-genetic imaging enables transplanted cancer cells to be visualized in animals. The cells must be tagged with imaging reporter genes, whose expression is determined by promoters. The objective of this study was to clone the UbiB(h) promoter into pcDNA3.1(+)/Luc2=tdT plasmid containing the CMV promoter in order to compare promoter strengths for the generation of a 4T1 breast cancer cell line stably expressing luciferase reporter gene.
Biography
My name is Shirley Liu and I am in grade 11 at London Central Secondary School. Some of my hobbies include spending time in nature, playing the violin, and making origami. Science has always intrigued me as a subject full of mystery; in particular, I have always had an interest for cancer research. I think one of the most interesting parts of being a scientist is the ability to delve into areas that have never been studied before and to discover new things that could be applied to solve some of the world's largest medical issues like cancer. This is my first time participating in the TVSEF and the CWSF. My biggest advice for students thinking about doing a project is don't be afraid to step into areas that are new to you. Innovations are the first step to scientific discovery, and be confident in the work you are doing as a young scientist.