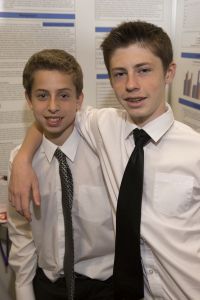 Phantom Sensations
Orchard Park P.S.
Our project explored phantom pains; a condition found in 76% of amputees. The condition causes amputees to feel pain in their missing limb(s). Medical professionals initially thought that this condition was purely psychological, but it was revealed that this condition is physical and directly related to the nervous system. My partner and I tried to find a solution to this issue.
Biography
Jacob – I'm an elementary school student at Orchard Park Public School in London, Ontario. I got to the CWSF from the Thames Valley Science and Engineering Fair where I won a Gold Medal along with my partner, Matt Skelton. Our project involves amputees and exploring "phantom pain"; a condition in which amputees feel pain in a missing limb. I'd encourage other students to take a look at an problem that badly needs a solution, and try to tackle it and find a way to fix it. You never know if your solution will work for thousands, or even millions!
Matt – My name is Matt Skelton, I'm in grade 8 and I attend Orchard Park Public School. I have always been interested in the brain and it's functions, and my project shows that. My partner -Jacob Ender- and I investigated phantom pains and how to treat them. We took a different approach than most with our method being based off of more recent research. We hope that our project can help to develop a proven method of treatment for this issue.