Workshop for Judges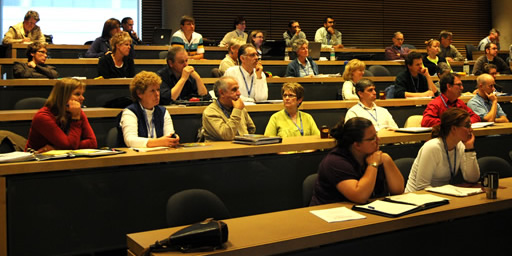 Judging Workshop Photo: Patrick Whippey
There will be a training workshop for all new judges and those who need a refresher:
Time: 4:30 pm – 5:30 pm
Date: 2 April 2018
Place: Physics & Astronomy 34
Parking: Meet me in the Talbot Parking Lot from 4:00 pm – 4:20 pm and I will give you a parking pass.
This workshop is for those judging the grades 6 – 12 on Saturday. It is NOT for those judging the grades 4 – 5 on Friday.
Judging at the Thames Valley Science & Engineering Fair – Judging Workshop
If you are unable to come to the workshop, please download and review the presentation.
Briefing for Judges
There will be a briefing for all judges on judging day:
Date: Saturday 7 April 2018
Time: 9:00 am
Divisional Awards: Faculty of Education Building Auditorium
Download the Judging Briefing:
Judges Briefing for Divisional Awards
Judges Briefing for Special Awards